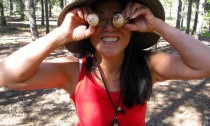 MATSUTAKE TIME above 8500-feet!!! It's Joy's favorite 'shroom, and she gets so excited when looking for "humps" in the duff at the base of Ponderosa Pines–White Matsu's (Tricholoma magnivelare, aka Mutsutake) in Colorado are like truffles in that they often do NOT break the ground surface. Therefore, they're a little harder to find.
Because it's now bow-hunting elk, black-powder deer, and soon-to-be bear hunting season season up here, 'shroomers need to be as conspicuous at possible. Here's what Joy is wearing this Matsutake hunting season:
Note all the red; the bells hanging from her belt, two types of red trowels (long and short), and the whistle hanging from her hat. Yup, Joy is always safety conscious when it comes to dressing up for matsutakes.
The next picture shows Joy about to dig...
Read More